By the Numbers: Lance Ware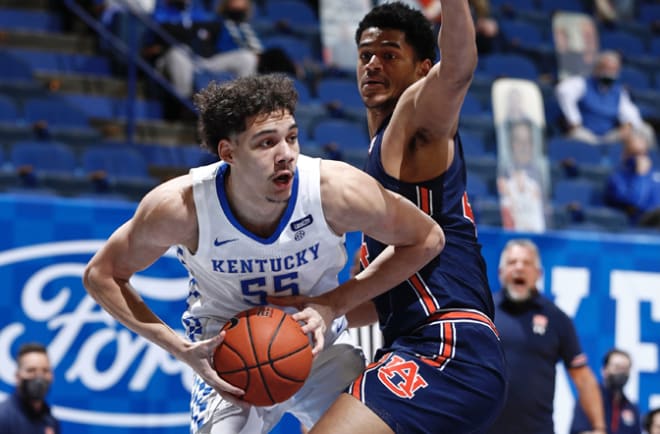 Lance Ware had some ups and downs during his first season at Kentucky, but how many freshmen don't?
There were times when he faded out of the regular playing rotation but moments when he was one of the team's reliable effort players who showed flashes of being an impact guy.
Here are some of the numbers that illustrate what kind of season Ware had.
27.6% ... The percentage of Ware's attempts that came on put backs. That's typically not something that is the No. 1 shot attempt for a player. It spoke to some positive rebounding moments but also the fact that UK didn't run offense for him.
Interestingly enough, 27.6% was also Ware's turnover rate, which was one thing he can clean up that would instantly make him more likely to stay on the court.
13 ... Rebounds against Mississippi State in a single game played during the regular season conference schedule. That was the highest rebound total for Ware all season, although he did have 10 against Missouri later in the year. Strength was an issue for Ware and more weight training is needed but he showed some nice rebounding instinct and a knack for getting to loose balls. That's something positive he can contribute when he plays.
12.0 ... Minutes per game played by Ware. That's a telling number. It's more than the players who weren't quite in the rotation, but less than all of the other rotation players. Ware's opportunities were there, often, because of foul trouble that followed front court starters Olivier Sarr and Isaiah Jackson. But there were some times when Calipari also seemed to sense a subtle positive impact and gave him a few more minutes.
4 ... Post-up points for Ware on the entire season. He scored those four points on 12 opportunities. That's a part of his game that will need to improve.
Also, the number of times Ware saw more than 20 minutes per game in the span of time between late December and early February. That might not sound like much, but during that stretch in conference play he had some positive moments, often while the rest of the team didn't have many.
2.0 ... Fouls per game committed by Ware. That might not seem like a significant stat, but he only played 12 minutes per contest. On a per minute basis that number is high and probably speaks to the fact that he wasn't quite physically prepared to bang with some of the more mature post players he faced.
0.672 ... Points per possession produced by Ware on his scoring opportunities according to Synergy. That ranked in the bottom 15% of players nationally.
0 ... Three point attempts by Ware on the season. He's the only semi-regular contributor for Kentucky who never even attempted one triple.