Blue Smith has scheduled another trip to Kentucky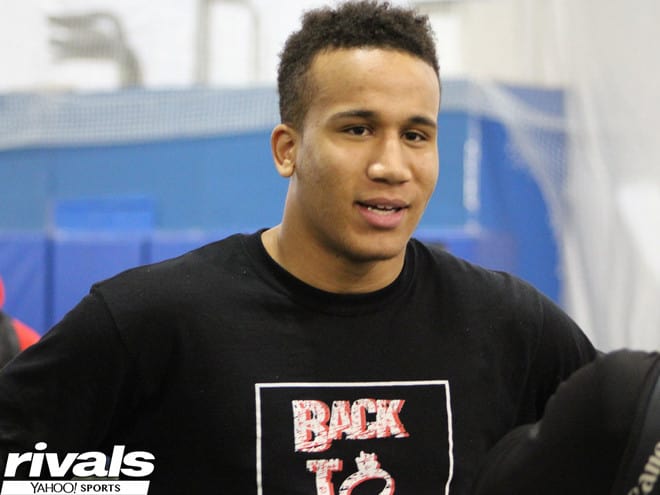 Blue Smith told CatsIllustrated.com on Friday that he'll be unofficially visiting Kentucky on Friday, July 14th.
Kentucky will host their annual Friday Night Lights camp next Friday and many of the program's commitments are already planning to attend. CatsIllustrated.com has learned from sources that four-star quarterback Jarren Williams is expected to be among the visitors as well.
Smith, a 6-foot-5, 215-pound four-star Rivals100 prospect from Huber Heights (Ohio) Wayne, recently attended The Opening in Beaverton, Oreg., where he spent plenty of time with Williams and fellow Kentucky commitment Xavier Peters.
Kentucky has made the case to Smith throughout the recruiting process that he's their top option at the receiver position. Vince Marrow is Smith's recruiter. His teammate, Alex Reigelsperger, is committed to Kentucky. The Cats' 2018 recruiting class has started a #GetBlueinBlue Twitter hashtag campaign.
Ohio State has made Smith a major priority as well. Smith visited Columbus last month and had a chance to speak at length with head coach Urban Meyer.
Last week Smith told Landof10.com's Jeremy Birmingham that he has postponed his decision date a couple of times to maintain some unpredictability in the recruiting process, which he considers enjoyable.
"The plan, if I do end up committing before the season, will be to commit Aug. 27," he also told Birmingham. "We're playing on ESPN and I'd do it before the game. If I'm ready."
Four-star cornerback Chandler Jones, three-star Kentucky offensive line commitment Darian Kinnard, three-star receiver Terez Traynor, and four-star Ohio linebacker Chris Oats are among the other players expected to visit on the 14th or around that time.