{{ timeAgo('2023-01-24 22:33:27 -0600') }}
basketball
Edit
Balanced Cats take care of business at Vanderbilt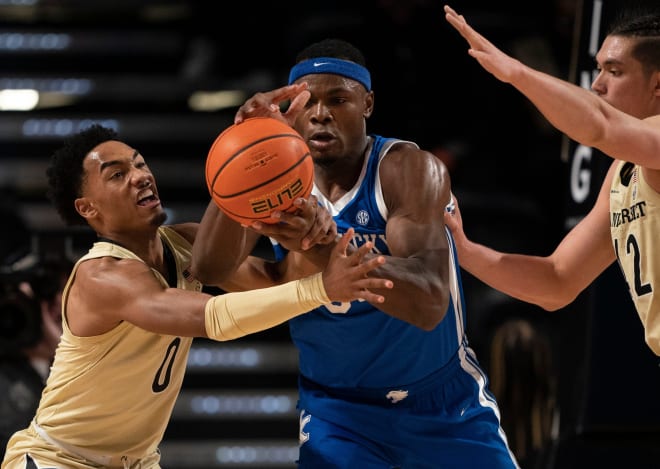 With one of the most highly anticipated games on the schedule looming this weekend as Kansas visits Rupp Arena for the Big 12-SEC Challenge, Kentucky did not get caught looking past Vanderbilt on Tuesday night in Nashville.
The Wildcats showed a businesslike approach, riding balanced scoring and strong defense to a 69-53 win over the Commodores.
Five players scored in double-figures for Kentucky (14-6, 5-3 SEC) which won its fourth straight game after starting league play at 1-3. Oscar Tshiebwe (15 points, 13 rebounds) and Jacob Toppin (12 points, 10 rebounds) each had a double-double while Antonio Reeves scored 16 off the bench, and Cason Wallace and CJ Fredrick each added 10 points.
"I think we've found a way to play as a team," Tshiebwe said. "Many times (earlier in the season) we were just forcing and forcing the ball to me all the time, and we figured out that we need to play free. We're playing free and just having a lot of fun right now."
"Hats off to Kentucky. They really came in and played a great game," Vanderbilt head coach Jerry Stackhouse said. "Their guys made shots from all over the floor. We weren't able to contain them at all."
Kentucky shot 56% from the field while holding Vanderbilt (10-10, 3-4 SEC) to just 33% The Cats also held a 37-24 advantage on the glass with the Commodores missing two of their top big men, including leading scorer Liam Robbins, due to injuries.
"The way we thought they could beat us was by shooting 3s," UK head coach John Calipari said. "I thought we did a pretty good job of making sure we guarded their best 3-point shooters when they spaced the court.
"The scouting the staff is doing and the response of the kids are really locked in."
Vanderbilt was just 6-of-17 from beyond the arc.
The Cats broke the game open with a 9-3 run to end the first half and a 12-3 run to start the second half. Vanderbilt scratched within 11 points with just over nine minutes to play, but UK responded with an 11-2 run to put the game away.
Malik Dia led the Commodores with 14 points, including a 4-for-5 night from 3-point range. Tyrin Lawrence added 12.
It marked Kentucky's 14th consecutive win over Vanderbilt.
*****
In this "Rapid Recap" feature, we touch on some quick-hitters from the UK victory...
KEY MOMENT:
Coming out of the locker room at the half, Kentucky hit Vanderbilt with a 12-3 run that seemed to deflate the Commodores' confidence. The home team had hung in all night long to that point, but back-to-back 3-pointers by Cason Wallace off inside-out action from Oscar Tshiebwe helped blow the game wide open before the first media timeout of the second half.
GAME BALL:
Antonio Reeves, Kentucky -- Once again, the senior transfer wing was the spark the Cats needed off the bench. He seems to have found a nice role, giving UK instant offense and playing big minutes from that point forward. On this night, he had seven points in the first two and a half minutes he was on the floor and led the Cats in scoring for the second straight game.
BY THE NUMBERS:
0 - Fouls by the Vanderbilt starters. The Commodores finished with only five fouls on the night. It was the fewest fouls by a UK opponent since Virginia Tech was whistled for four on Dec. 28, 1956.
2 - Free throws attempted by the Wildcats. They hit one. It was UK's fewest free-throw attempts in a single game since February 3rd, 2001, at South Carolina (also 2).
0-8 - Vanderbilt head coach Jerry Stackhouse's career record against UK.
9-0 - Kentucky advantage in fast-break points.
17 - Assists for the Cats on 31 buckets. CJ Fredrick and Sahvir Wheeler each had five to lead UK.
155-47 - Kentucky's lead in the all-time series against Vanderbilt.
QUOTABLE:
"Everyone's playing for the team right now, not for themselves." -- UK center Oscar Tshiebwe
UP NEXT:
Kentucky returns to action on Saturday at Rupp Arena in one of the most anticipated games of the season, a blue-blood clash with Kansas in the Big 12-SEC Challenge. The Jayhawks (16-4, 5-3 Big 12) come to Lexington on a rare three-game losing streak after falling Monday night at Baylor. Bill Self has never lost four straight as head coach at Kansas. Tipoff is slated for 8 p.m. ET on ESPN.