Athletics Committee to succeed UKAA Board of Directors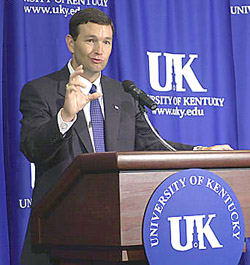 The UK Athletics Association Board of Directors voted unanimously to dissolve on Wednesday, ceding its power to an Athletics Committee that will be overseen by the university's Board of Trustees.
It was recommended to the Board of Trustees in October that an Athletics Committee be formed within the structure of the board, according to a UK news release. The Athletics Association Board of Directors was established in 1945.
The Board of Trustees approved the proposal in December. In a 19-minute meeting on Wednesday, the board of directors quickly voted to dissolve. The board will officially dissolve on June 30.
"We had been a separate entity for many, many years only in name," UK athletic director Mitch Barnhart said. "In reality, we were part of the university structure. This legally pulls it all within the framework of the university. I don't think there really is a change in the way we do our business."
The change shouldn't create any noticeable change for student athletes or fans, Barnhart said.
The Athletics Committee will advise the UK president on athletics matters, provide information to the Board of Trustees, review the Athletics Department's annual budget and audit reports, major expenditures and acquisitions, and construction of facilities if the cost exceeds $400,000.
"I think it's just a change of order, the way we're doing our business," said Barnhart, who compared the new governing structure to the committee that oversees the UK hospital. "There are oversight committees within the Board of Trustees for everyone but us."
The new committee will be comprised of five members of the university's Board of Trustees, up to three non-voting members of the community, and the faculty athletics representative as a non-voting member.