Ask the Expert: Louie Vaccher of WildcatReport.com talks Northwestern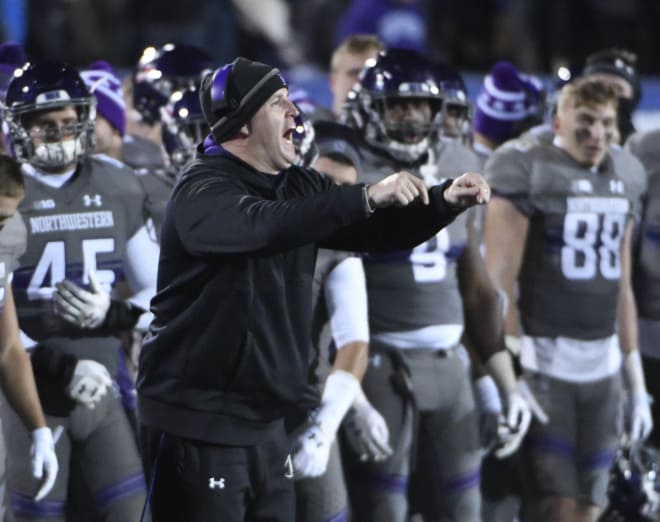 Cats Illustrated: It's a bit of a big question, but how would you briefly summarize Northwestern's season to date, any themes that have emerged, and how fans are feeling about the 2017 Wildcats?
Louie Vaccher, WildcatReport.com: This season will be remembered for its huge turnaround and long winning streak. After a disappointing 2-3 start, Northwestern won its last seven games in a row, the program's longest winning streak since 1996, to finish 9-3 and 7-2 in the Big Ten.
The Wildcats went down to Duke and got drilled in Week 2, losing 41-17 in a game that wasn't as close as the score. Then, after a win over lowly Bowling Green, they got outclassed in their first two Big Ten games, losing badly to Wisconsin and Penn State. The team had dreams of competing for the Big Ten West title this year, and two weeks into conference play those dreams were dashed. But then, Northwestern turned its season around and won out. They also showed a lot of mettle in the process, becoming the first FBS team in history to win three straight overtime games, over Iowa (one OT), Michigan State (three) and Nebraska (one).
So what happened to spark the transformation? For one, the schedule got easier. Opening Big Ten play against Top 10 teams was more than the Wildcats could handle at that point in the season. Star running back Justin Jackson also played through an undisclosed injury early in the season but got healthier as the weeks went on. But the biggest factor was the improvement of the offensive line. They really struggled early in the season (NU ran for a combined 144 yards and allowed 16 sacks in those three losses) and coaches were changing lineups week-to-week and often series-to-series. They finally found their best five and the unit steadily improved throughout the season. The offensive line is not a strength of the team, by any means – that's the defense, which has been solid all year – but by the end of the season they dominated the line of scrimmage in beating Minnesota and Illinois by a combined score of 81-7.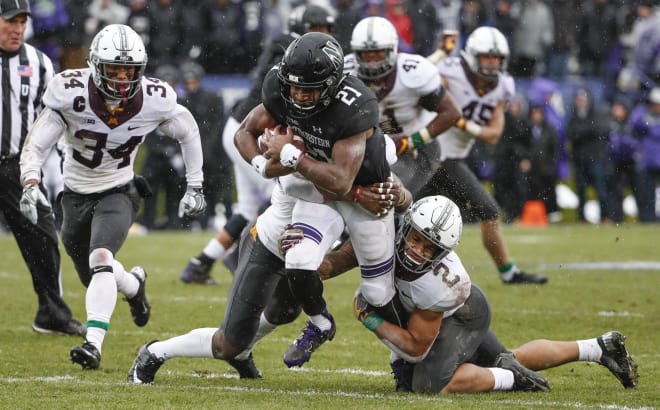 Cats Illustrated: Who are some offensive players for Northwestern that Kentucky fans should know about?
Vaccher: Simply put, Justin Jackson is the best running back who ever wore purple. He is Northwestern's all-time leading rusher (5,283 yards) and this year became just the second player in Big Ten history to post four straight 1,000-yard seasons (Ron Dayne is the other). He is not particularly big or fast, but he is one of those elusive runners who can "make you miss in a phone booth," as Pat Fitzgerald likes to say. He is also a weapon in the passing game and one of the best blocking backs in the nation, and he has the endurance to lug the rock 30 times if he has to. No. 21 can do it all.
Northwestern also has an NFL talent at quarterback in redshirt junior Clayton Thorson. He's 6-foot-4 and 220 pounds and has a big arm that can make every throw in the book. That said, Thorson didn't have the season statistically that many were expecting. He completed 60.6 percent of his passes for 2,809 yards, but his 15-to-12 TD-to-INT ratio wasn't what was expected from a three-year starter. He still has some issues dealing with pressure and throwing accurately on the run, but given time in the pocket Thorson is as good as any QB out there.
The Wildcats don't have a single go-to receiver, but Thorson has a few favorite targets. Bennett Skowronek is a 6-foot-4 possession wide receiver who knows how to use his big frame against smaller corners; he led the team in receiving yards (619) and touchdowns (5). In the slot, Flynn Nagel's bread-and-butter are crossing routes, and he led the team with 47 catches. At superback – Northwestern's name for the hybrid tight end/H-back position – the Wildcats have an athletic big man (248 pounds) who can run in Garrett Dickerson; he had 37 catches for 401 yards and 4 TDs.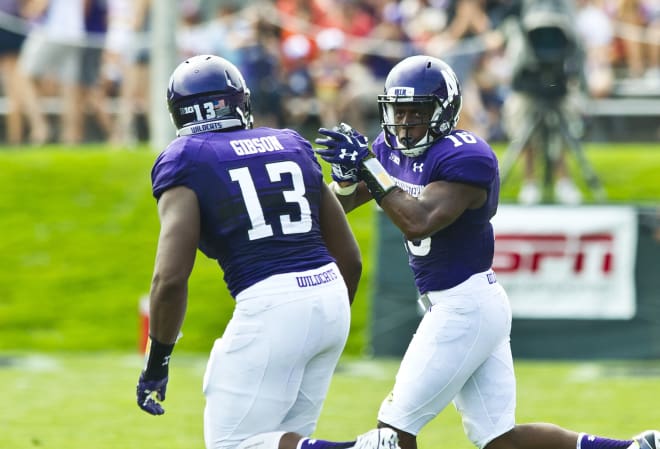 Cats Illustrated: Who are some defensive players for Northwestern that Kentucky fans should know about?
Vaccher: The defense was the backbone of this team all season. The offense came and went and often sputtered, but the defense played well all season, save for the Duke game. Their specialty is stopping the run – they allowed just 111.3 yards per game and held half their opponents under 100 yards on the ground.
It all starts up front for the Wildcats. Defensive tackle Tyler Lancaster is a load in the middle, a 315-pounder who is one of the strongest players in college football, having benched 225 pounds 37 times over the summer. On the outside, defensive end Joe Gaziano led the Big Ten in sacks with eight. At linebacker, the standout is middle linebacker Paddy Fisher, a redshirt freshman who was named the freshman defensive player of the year in the Big Ten after racking up 110 tackles on the year (even after missing two halves for a targeting penalty). Outside linebacker Nate Hall is one of those guys who makes plays sideline-to-sideline and came up with 16.5 tackles for loss, second-best in the conference. In the secondary, the Wildcats' strength is a pair of fifth-year senior safeties: Godwin Igwebuike, who finished with 72 tackles and a team-high 9 PBUs, will play on Sundays, and Kyle Queiro led NU with four interceptions.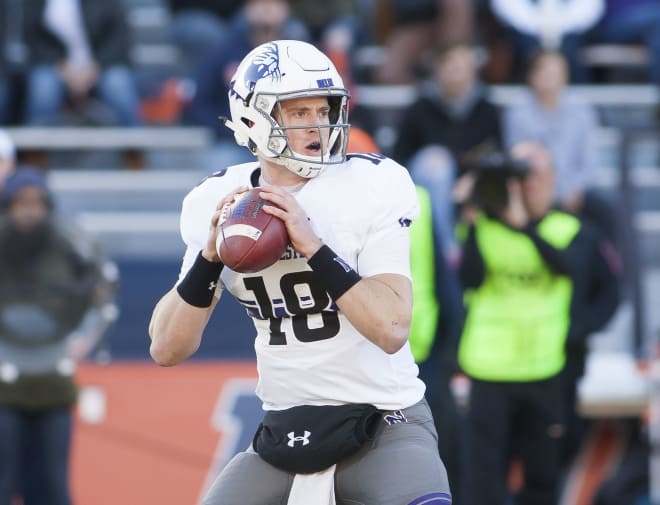 Cats Illustrated: If you were an opposing coach, how would you attack this Northwestern offense and defense?
Vaccher: The No. 1 priority for all defenses who play Northwestern is to stop Jackson and the ground attack. If he gets going and the Wildcats stay two-dimensional, they can be a handful. However, if Kentucky can play man-to-man defense on the outside against Northwestern's receivers and put an extra safety in the box, they could have success stopping the run. NU's receivers have been productive, but they don't scare anyone and lack the burner who can really stretch a defense vertically. But the Wildcats showed this year that they can win when their running game struggles: they beat Michigan State and Purdue when running for less than 100 yards.
On offense, Kentucky will have to stay patient. I don't think Kentucky will be able to run the ball effectively against a defense that shut down the likes of Wisconsin, Michigan State and Iowa this season, so the short-passing game will be their best bet. Northwestern plays primarily a Cover-4 defense and will give up the underneath passing routes. If Kentucky takes what the defense gives them and executes well – no drops, penalties, etc., that can put them behind the chains – they could have success moving the ball. I would also take a few shots over the top as NU did show a tendency to give up big plays in the passing game early in the season. Another big key: cashing in on chances to score. Northwestern has the No. 7 red-zone defense in the country, allowing 27 scores on 38 trips inside the 20.
Cats Illustrated: There's a lot of time until the game, but do you have an early prediction for the score or at least thoughts on how things might play out?
Vaccher: As you would expect from a team that won seven in a row, Northwestern was playing with a lot of confidence at the end of the season. The offense found its rhythm and the defense got stronger as the year went on. This was a team that didn't want the season to end. They would have loved to get another shot at Wisconsin or Penn State at the end, rather than the beginning, of the year.
I haven't studied Kentucky yet, so my opinion is uninformed at this point. But my early inclination is to pick the Purple Cats over the Blue ones by somewhere around 7 to 10 points.