ALL ABOUT ACTION: Talk is cheap for JaVonte Richardson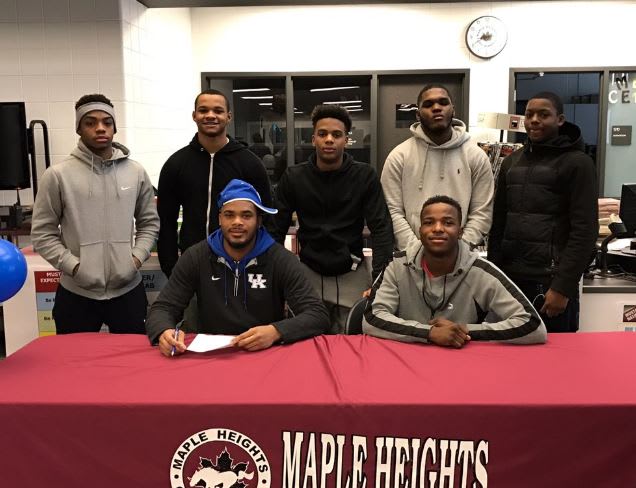 Lynn Bowden, the runner-up for the Buckeye State's prestigious Mr. Ohio award, is the player who has been talked about more than anyone else. That's in part due to his numbers. It's in part due to the community around Warren Harding and how they rally around their football team and helped to promote him. And it's due, in part, to Bowden's personality. As soon as he lost the state's Mr. Ohio award to Mike Warren he took to social media and declared that he's the best player in Ohio anyways.
Josh Paschal, that rare four-star commitment for Kentucky from the east coast, also generated a lot of conversation.
But Richardson quietly signed his name on the dotted line, stayed in his lane and didn't clamor for attention. He committed early, on Easter Sunday of 2016, and never looked back. He also never needed to be noticed.
JaVonte (pronounced Jay-ve-on-tay) Malik Richardson is a 6-foot-5, 230-pound wide receiver with elite athleticism, a lofty national ranking and apparently little concern for headlines.
That might surprise some people, who are accustomed to athletes pointing at themselves, but it's the only JaVonte his family knows.
"His thing is it's best not to talk about it but to just do it," said Dana Smith, Richardson's father. "That has a lot to do with his upbringing. We've got seven children. My daughter is a junior and she's looking to play D1 basketball. I've got one child who's a very good baseball player ... a seven-year old right now who's playing basketball and baseball.
"When I say we're on the run, listen, today's Friday and when my wife gets off work we'll be at the gym from 6-10 p.m. Tomorrow my daughter has a game at two o'clock and my seven-year old has a game at 4:30. That's just what we do. We're not flashy. We're not out to be seen or heard. We let our actions speak for themselves. We believe that very firmly."
And that helps to explain Richardson's apparent lack of concern for his own publicity, a rarity in today's sports, entertainment and media climate.
Even without pointing to himself or shouting his own praises, Richardson was bound to be noticed at a young age. He's always been one of the bigger players on the football field, his father said, and Richardson began playing football when he was only eight years old.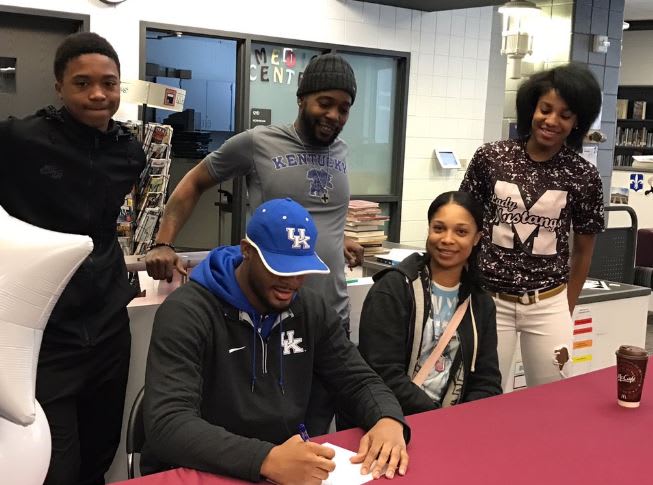 He played quarterback at that young age and remained behind center until his freshman year of high school. His father said he's got a video of Richardson throwing the football most of the length of the entire field from when he was a 10th grader. But from ninth grade through the end of his high school football career, last November, he was a wide receiver on offense.
Richardson has always had a business approach to perfecting his craft. Not much talk, all action. And lots of work.
"He went through Sky High (Training)," his father said. "That's a personal trainer. He did speed training with Raw Talent. He did so many things to perfect his craft, trying to be the best receiver he could be."
Richardson has really wanted to be a receiver, even as a lot of scouts and college coaches alike looked at his towering frame, impressive build and elite athleticism and assumed he would make a big-time safety. It's true, Richardson has been a very good defensive player throughout his time at Maple Heights. But he's wanted to be a receiver in college and hopefully beyond.
"I don't really like to get into the defensive talk or open that can of worms," his dad said. "But he's really, really a monster on defense as well. Growing up he was just always bigger than the rest of the kids. He is a tenacious defensive player. But his play at receiver really overshadows his defensive play. He's worked so hard at his craft, even in the summertime you see him with (Oakland Raiders quarterback) Connor Cook and (former Cincinnati receiver) Shaq Washington. He's actually working out with these guys. He's catching passes from an NFL quarterback. If you talk to any of the competition, he's a hard guy to tackle. But his thing is it's just best not to talk about it."
Smith has a video of Richardson talking to his brother, who also played for Maple Heights, after a game earlier in his career.
"My (other) son is like, 'Dude, you got three picks and four touchdowns.' And JaVonte was like, 'No I don't. I've got four touchdowns? I'm just a monster. I'm possessed today.' But you very, very rarely hear him talk like that. It's just not who he is. He's not a real big spotlight type of guy."
Richardson had more than 1,000 all-purpose yards for Maple Heights as a senior even as the team went through periods of struggle. There was an inexperienced quarterback and Richardson's father actually believes that his early commitment could have hurt his numbers.
"As far as other (players) thinking, 'Okay, he already got his scholarship. I'm trying to get mine now,'" he said. "And also he had done so much and racked up so many accolades that he didn't want to take shine off the rest of the team. He wasn't trying to be about himself.
"But I'll give you a good example of how he played. A guy like Jaylen Harris, committed to Ohio State, they made this big fuss about the game. But if you go back to the Cleveland Heights-Maple Heights game, the news wasn't about Cleveland Heights and their win. It was about JaVonte and his three touchdown run backs he had. There were some times when what he did individually just overshadowed a lot of things the team did. He's just not all about himself. The last thing he wants to be is a distraction."
Richardson had struggled with some back issues when he was a junior, but his father said that therapy helped him recover and get his strength and full ability back.
Sign up for a premium subscription to Cats Illustrated today.
Right now Richardson is playing basketball for Maple Heights.
"He's a monster in basketball," his dad said. "Had he not pursued football and had he pursued basketball the way he pursued football we'd be talking about him for basketball. I'm not gonna say Kentucky, because that's a hard spot to get, but there would definitely be a big buzz about him playing basketball. He played for Team James the AAU team. He played for OBC (the Ohio Basketball Club). They wanted to see his birth certificate."
Richardson's sheer size and athleticism have a lot to do with his success on the field and on the court.
When colleges first came on the scene to recruit Richardson he was barely 200 pounds.
"Now he's 230 pounds and he's like a man-child out there on the field. The competition has just been minimal for him," Smith said. "Matchup wise, there's really been no competition. A lot of the teams we played double-teamed him, triple-teamed him. But he's physical. He's not like the typical receiver. He blocks. He hits. He makes tackles. He tries to complete the play. If he catches a 10-yard pass he's like, 'I need to make this a 20-yard reception.'"
Richardson is Kentucky's second-highest ranked football commitment of the Mark Stoops era behind only five-star offensive tackle Landon Young from the Class of 2016. That might be hard to believe, because he's garnered so few headlines relative to the other top players in the Cats' class, but when Richardson committed to Kentucky in the spring last year it was an enormous story in the world of Ohio recruiting.
Why Kentucky?
"Honestly it was the atmosphere," Richardson's father said. "It was the feel, the love, the truthfulness. You have a lot of guys, they come to recruit kids and they tell them what they want to hear to get them on board. Then they change their positions or change what they're saying. You go to Lexington, Kentucky and you will feel the love. When they love you, they love you. It's always been genuine and that's kudos to Coach (Mark) Stoops and Coach (Vince) Marrow. They've never told us one lie. They've never switched it up. It was always 100."
"We had got word Ohio State wanted him but they wanted to make him a safety," he continued. "Then we got word Michigan State and Michigan wanted him, but the buzz was they wanted him to play defense. He's worked too hard trying to be the best high school, now going into a collegiate receiver that he could be. That's just the bottom line."
There's another reason Richardson committed to Kentucky so early and stuck with the Cats.
"He chose the SEC because the receivers and the cornerbacks are bigger, stronger and faster. Period," his father said. "That's just the bottom line. Period."
Richardson did have other opportunities after he committed to Kentucky, his father said.
"What happened was we wound up getting a call from Michigan, from Michigan State, from Alabama," he explained. "As you know, the recruiter from Alabama (Derrick Ansley) used to work at Kentucky. So I was under the impression that it was kind of like, 'We're going to go after their highest (-ranked) recruits because Alabama's the best in the land. We still got plenty of mail, but anybody who knows my son knows that he's a loyal guy. When he says he's gonna do it, he's gonna do it. Committing so early really took a lot of pressure off him.
"I'm just going to give kudos to Coach Stoops and Coach Marrow. I believe they have great influence in this world (of recruiting). I don't know if they intimidated other (coaches) and ran them away, but I think they kind of shut them down," Smith said. "So JaVonte is loyal and that allowed them to move on and go get other guys without worrying about him. Since last Easter when he committed we've been wearing Kentucky stuff all the time. We've been to almost 80-percent of the home games.
"We've traveled up and down the freeway (to Kentucky) plenty of times, just making sure he gets acclimated to being on campus and being away from home, so once he gets up there he doesn't get homesick," Smith said. "He gets out of school at the end of May and he gets up there on June 5th I think, so there's no summer break."
And why is Richardson so focused on staying at receiver, at Kentucky, when so many of the Midwest's big-time programs liked him on defense?
"He's a game-changer," his father said. "He needs the ball. He's a game-changer. He makes plays."
Sign up for a premium subscription to Cats Illustrated today.