2018's No. 1 player R.J. Barrett recaps Kentucky, talks recruitment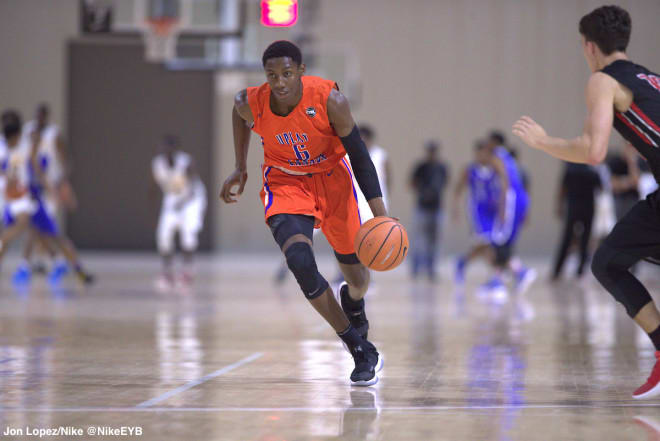 The No. 1 ranked player in the 2018 Rivals150, R.J. Barrett took his first official visit over the weekend and checked out Kentucky. He brought Rivals.com up to speed on the visit and discussed the status of his recruitment.
The first of Barrett's final five that also includes Arizona, Duke, Michigan and Oregon to host an official visit, Kentucky and John Calipari had a chance to set the bar for future visits and they left a very good impression.
"It was good," Barrett told Rivals.com. "I got to learn more about the school and how they operate. I got to meet with coach Calipari and coaching staff and really get to know them better so that was great."
During the summer, Barrett led Canada to a gold medal game win over a Calipari-coached United States squad at the Fiba U18 World Championships and, not surprisingly, the topic came up.
"That was one of the first things that came up," said Barrett. "He said I gave him 40 and now he wants me on his team to do the same thing."
Interestingly, Calipari didn't have a specific pitch for Barrett and explained it is because he doesn't yet know who could join him in the 2018 class.
"Coach Cal told me he can't give me an exact pitch for how I would play just yet because he doesn't really know what his team is going to look like," said Barret. "He just knows that I am a fit anywhere and that they can help me get better."
This week, Barrett will take a weekend off from his visit schedule. Then his next visit will be to Duke and he knows what he's looking forward to.
"Just talking to coach (Mike) Krzyzewski and picking his brain," said Barrett. "I just want to learn more about the school. I want to learn as much as I can on the visit."
Duke already holds commitments from No. 4 Cameron Reddish and No. 7 ranked Tre Jones. Like Barrett, Reddish is a versatile ball handler and scorer with size but he doesn't see it as being an obstacle for the Blue Devils.
"I've been talking to Cam a little bit," said Barrett. "I played against him and I know how he plays. It wouldn't be an issue at all if I were to go there."
Barrett also touched on his three other finalists.
Arizona: "Arizona, I don't really know as much about them yet and I'm still trying to learn more. That's why I'm going to take a visit out there, to learn as much as possible."
Michigan: "They play with big guards and that's appealing. That would definitely help my development to go there."
Oregon: "They have been recruiting me since I was in like the seventh grade. The relationship is there and it seems like all of the Canadian kids are going there now. My good friend Abu Kigab is there so that's good."
Barrett will wrap up his visits in early October and he doesn't plan to take too much time to decide after that. He wants to sign early but don't expect him to commit prior to taking all of his trips.
"November is the plan," said Barrett of his timetable for a decision. "I'm just trying to not have to worry about during the season. It will mean more interviews and stuff like that where I'm not focused. I'm a simple person, if I go to a school and see what I like then I'm going to go ahead and commit to going there.
"I'm still going to take all of my visits. I don't want to not visit somewhere and potentially miss out on something by making my decision too quickly."