12 thoughts on UK's 9-3 regular season
It seems like only yesterday the college football season was beginning with the Wildcats hosting Central Michigan but the regular season is now in the books.
What a season it was for Kentucky. The Cats finished 9-3, their best regular season record since 1977 with a streak-busting win against Florida and their first winning league record during the same span.
Here are 12 thoughts on the regular season that just finished, with Kentucky now awaiting its bowl destination and opponent. I was in the mood to reflect and opine late Saturday so buckle up night owls and early risers. It's a long read.
1. It was not a "what could have been season".
I'll admit sometimes, especially on social media, I get caught up in responding to people with more extreme opinions, both positive and negative. It's a flaw and I shouldn't do it, but I can't help myself and I try to use that platform to expose the extremes and find more of the truth as I see it.
After the Tennessee game I said that was the worst loss for Kentucky football in my lifetime. With a little more hindsight, and especially now knowing that the "tailspin" was a bump in the road, I am willing to entertain the idea that I might have been wrong.
True, Kentucky probably lost a New Year's Six bowl with that loss to Tennessee. But because the Cats rebounded to finish 4-2 in the last six games with a 56-10 win against archrival Louisville, and will finish in the Top 15 nationally, the loss to the Vols doesn't stand out quite as much. Sure, it was the low point for this team and it left a horrible taste in the mouths of many fans, as well as coaches and players. But it does not overshadow the historic accomplishments of this team. The enduring legacy of UK's 2018 football team is that they were historically good. They happened to lose one they shouldn't have.
2. Yes, Kentucky should have beaten Tennessee.
Having wrote what I just did, Kentucky should have beaten the Vols. When I've tweeted that on social media I've been bombarded with ridicule from Vol Twitter (a loud, passionate group) who pointed out that it seems silly to say a team "should have won" a game they lost 24-7 when they could have been shut out. So I do concede, readily, that the way the game went, Kentucky got the loss it deserved.
However, knowing what everyone knows about Kentucky and Tennessee, that should have been a win in Knoxville. The win was the highlight of Tennessee's season. It got Jeremy Pruitt a Coach of the Week award (doesn't it say something about UK's progress when beating UK is an occasion for that?). It was an all-too-typical and predictable loss for the Cats that fed into that ugly "tailspin" narrative.
That it was an opportunity to win in Knoxville, which hasn't happened in a very long time, has to sting even more. And, yes, Kentucky would be in a "major" bowl had they won. In a season without many "lows", this is the obvious winner in that category.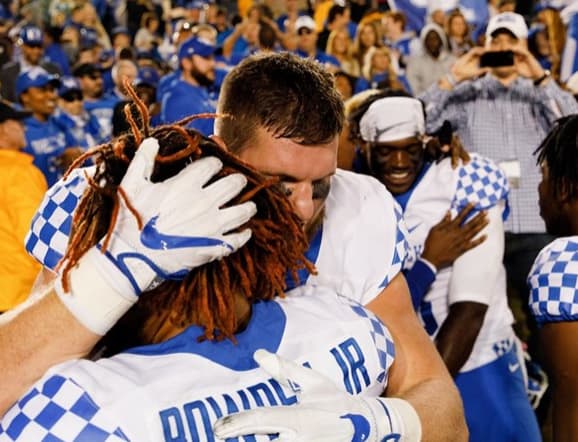 3. But Kentucky was very fortunate to beat Missouri and other games, if played again, might have been losses.
If we can say that Kentucky should have played differently against UT, and that the outcome should have been reversed, then it's only fair to say the Wildcats were extremely fortunate to win at Missouri. While the offense had 385 yards for the game, UK didn't get anything going on the scoreboard until Lynn Bowden's punt return for a touchdown and an amazing last minute, game-winning drive orchestrated by Terry Wilson.
Under most circumstances, UK loses that game. Zero second half first downs for Missouri and all, if UK should have beaten UT, they should have lost to Missouri. So if you're still down in the dumps about that Tennessee loss, I'll continue saying they were very fortunate to escape Columbia.
We can't say Kentucky should have lost to Florida or Mississippi State, but if those games are played again then it's easy to imagine they would be toss-ups. UK wasn't "fortunate" to win those games but they happened to play one of their best games of the year in the Swamp before the Gators really got rolling and it does seem like an outlier that Kentucky put up more points on Mississippi State than any other team the Bulldogs faced all season.
In other words, Kentucky finished with the 9-3 record they probably should have had knowing everything we know. That should help everyone sleep at night.
4. Terry Wilson is easy to dream on.
When I watched Kentucky's top two quarterbacks early in the season there was no doubt in my mind that Terry Wilson was Kentucky's best option. That's not to criticize Gunnar Hoak. From everything I've heard, he has been a model teammate. Remember all those quarterback recruiting misses and decommitments and transfers in recent years? Hoak committed (after UK missed on guys who were ahead of him on their board), he stayed committed, and he paid his dues never causing any problems. He has been good for Kentucky football.
It was just clear to me that the coaches made their decision for a reason. That's not to say "trust the coaches" against any and all evidence to the contrary, but for Hoak to have been the better option this year he needed to be a much better passer than Wilson, because Wilson's mobility and explosiveness with his legs gave Kentucky a much-needed dimension. Wilson finished the year with more than 500 yards on the ground in spite of being bottled up in many games. But the yards he picked up were timely. His escape ability and scrambling for first downs was, along with UK's offensive line play, the reason Kentucky won in Gainesville.
Over the last half of the season Wilson has made obvious strides as a passer. He has become more aggressive in looking to make throws down the field and finally, against Louisville, started to connect on those balls (his receivers could have helped him a lot more, too). I think some folks take Wilson's accuracy on short/intermediate throws for granted, but that isn't fair. Many recent UK quarterbacks have not been as good in that area. While his limitations in the vertical game, tendency to lock onto one read, and unwillingness to get rid of the ball (more in taking sacks than throwing picks) has hurt UK at times, two of those three things are directly related to inexperience more than anything else and the other, the deep ball, had something to do with UK's lack of game-breakers on the outside.
The coaches picked Wilson before the season because he had the higher upside and true dual-threat potential. Through the ups and downs, Wilson proved he was the right choice. And he's trending in the right direction with two years of eligibility remaining. That's the most positive thing UK has going for it with significant losses looming on both sides of the ball.
I would also argue that Wilson didn't "cost" Kentucky any games, except potentially the Texas A&M game (although the Aggies won the yardage battle by 200 and "should" have won, as they did). In College Station, Wilson was befuddled when the Aggies didn't bring pressure, closed those enticing running lanes and forced him to play a game he hadn't had to play to that point.
There were times when I thought UK's staff was trying to force a square peg into a round hole, turning the dual-threat into more of a pocket passer, but the UofL game and the second half of the season is an indication I may have been wrong. The running ability is still there, and he is looking more comfortable in the pocket than earlier in the year.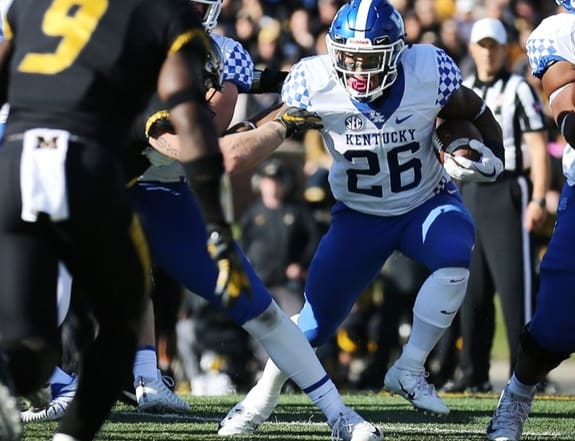 5. Tip your cap to Benny Snell, the best running back in UK history.
I think some who follow and cover Kentucky football have been too conservative in their estimation of Benny Snell's impact and quality of play through three years in Lexington. When there was a common debate that popped up - "Is Snell the best running back in UK history?" - my tendency was to scoff. Because, yes, I thought, he certainly was.
I will admit that in terms of Snell's overall ability, from hard running to pass-catching, from pass protection to explosiveness, it is probably not a slam dunk. Someone like Artose Pinner had a phenomenal single season. Moe Williams was great. Raphael Little was as all-around and impactful as it gets.
But the numbers don't lie. With a solid bowl game, Snell will probably leave UK after this season (but let's allow him to make his own decision) as the program's all-time leading rusher in three seasons. He's fourth all-time in rushing touchdowns by an SEC player. He's been over 1,000 yards every year. Those numbers put him in elite company across the SEC, all-time, and give him the nod over anyone who has ever taken handoffs for the Wildcat football program.
So if Kentucky loses Snell after this year (and he should probably go, as everyone seems to realize), it will be a loss. No question.
However, I'm not sure the overall impact will hurt the Cats all that much. Take Pro Football Focus grades with a grain of salt if you'd like, but they have AJ Rose grading out almost identically to Snell for the season. That's a much smaller sample size, but it's interesting.
Rose has made big strides in terms of the playbook, his toughness and his pass pro skills. He's more of a receiving threat, arguably, and certainly more of a home run hitter. The reason I think the offense will still improve next season is Kentucky's biggest problem this year was a lack of explosive plays on offense. Snell is fantastic, but he saw about 75-percent of Kentucky's snaps, and carried the ball on about 50-percent of those plays. That guaranteed UK would march down the field fairly well, but it also meant UK was unlikely to create many big plays. Snell was always successful, but he was always part of a conservative philosophy and formula. That formula worked, but it often did lead to opponents "figuring Kentucky out" after mid-October.
If the passing game makes strides, as I expect, then the move to Rose (assuming Snell leaves) will be a move to more all-around balance and an emphasis on chunk and explosive plays. Given Kentucky's defensive losses, they will probably have to be more explosive next season so the timing may work out for everyone.
6. Josh Allen is the best defensive player I've ever seen at Kentucky.
I wasn't around to watch Art Still or some of the other players our older members and readers will bring up, but it's hard to imagine any Kentucky defensive player, ever, having the kind of season Josh Allen just turned in.
One year ago Allen was a big-time playmaker on the first half of the season. Playing a lot of snaps and a still-underdeveloped body caused the former project and overachiever to run into a wall. He took the offseason seriously, like a job, and remained dominant from Games 1 through 12.
While Allen's 13 sacks set single season and career records at Kentucky, just as impactful were his five forced fumbles and all the penalties he drew (especially against Mississippi State). Opponents had to game plan for him. They couldn't run right at him as they could in the past. And in spite of the extra attention and game planning, Allen still got his numbers and changed games.
Is Allen the best defensive player in college football? I believe he had the best season and if I'm an NFL general manager or scout I'd have him as a Top 5 pick. That's enough for me to say you wouldn't trade him for anybody else.
He's a huge success story and gives support to Mark Stoops "recruit and develop" mantra. I hope everyone enjoyed him, because his absent will be felt next year. I can't remember one player whose absent will be felt as acutely as Allen's next season. Kentucky's ability to rush the passer was one of the two biggest differences from recent seasons (along with the secondary's strides, which were related to that). That is in large part, and maybe mostly, due to Allen.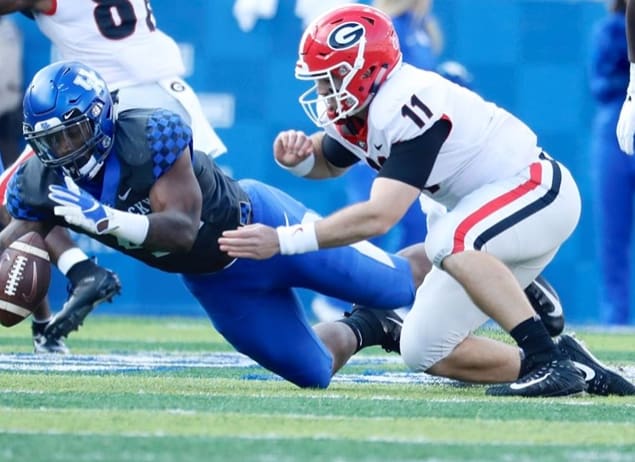 7. How should we interpret the Georgia game?
If the Tennessee game prompted outrage and even some apathy, the Georgia loss, 34-17 in Kroger, was more deflating and humbling than anything else.
The oddsmakers had looked foolish all season to that point with Kentucky winning four SEC games as Vegas underdogs. But those oddsmakers made UGA a two-touchdown favorite when the line opened.
Understandably, many believed this was a "magical" season for Kentucky and the underdog would be Cinderella yet again. That didn't happen. Cinderella is for fairy tales. Sports Cinderellas almost never win championships (unless they're coached by Jimmy V).
I try to keep it honest and blunt even if it rubs some the wrong way. I saw some writers and fans say, after that game, "That's okay. Kentucky's moving in the right direction and they'll be back in this position again. They'll get over the hump."
Well, I don't know if they'll get over that hump. Surely under the right set of conditions UK could one day reach Atlanta. They were a game away from it this year - the one I'm talking about now. Missouri did it two years in a row in recent history.
But for as long as Kirby Smart is at Georgia, I'm not sure it's realistic. Apologies if that makes me a stick in the mud or too negative, but the chasm is wide. UK has narrowed the talent gap with most of the SEC, but during the same span of time Georgia has hoarded more talent than ever and the gap didn't look small at all. Had UGA played as poorly as they did against Missouri, UK might have had a chance (though I don't think UK played particularly well against UGA). But championship teams turn it on at the right time and when Georgia needed to peak, they peaked. They're peaking now.
Kentucky had the misfortune of catching Georgia's "A-game" and that's a testament to the work UK did before that game. But that Georgia "A-game" told me that it's more about the journey than the destination. UK may never beat a team that talented, that well coached, playing at that level. That's no knock on Mark Stoops or the work he's done. It's more about UGA than anything else.
Fortunately, college football isn't just about championships. It never has been. Championships in college football have never been as significant as in other sports. For most of the sport's history there was no one single recognized championship. The bowl system itself is an anomaly in sports, and so unique to college football in that the system itself says, "Not only one team will end the postseason with a win." It's not all about titles, be it SEC, national or East titles.
The best season since 1977 will do, every day of the week and twice on Sunday. And over time, if Stoops builds Kentucky into an Iowa, Virginia Tech or (on the high end) a Wisconsin - good enough to a problem, more than a little respected, but never national title worthy or ready to beat Nick Saban or Kirby Smart, then you're still better off than the larger portion of teams out there.
8. Where the UK-UofL rivalry stands today.
It's a good time to talk about Kentucky and Louisville given the Cats' 56-10 throttling of the Cards, one of the two most lopsided outcomes in series history. In the big picture, Kentucky is once again above .500 against the Cards all-time (16-15), in a series which UofL had never led.
But what about Louisville?
I think the Louisville interest is a bit overrated. As someone who doesn't live in the middle of the rivalry and only writes about it, I understand the rivalry talk and the constant comparing, measuring and forecasting.
But I think there are plenty of players in Kentucky, Ohio, Georgia, Florida and elsewhere for both programs to succeed without either imposing any kind of ceiling on the other's success. So long as Stoops fares well enough against UofL head to head, they are an end of season game and little more. If Stoops doesn't fare well against UofL, I've always said, that's a bellwether that other things are going poorly. And those other things, namely SEC play, are what really matter. So UofL isn't all that important except for bragging rights.
Still, it's amazing how quickly the Cards have fallen. The Bobby Petrino Round 2 era was incredible. Louisville hired a coach most others wouldn't, with an administrative regime that has collapsed under the weight of its own corruption and lack of rightly ordered values. But Petrino did coach Lamar Jackson to a Heisman Trophy and had Louisville in serious contention nationally to the point where they were part of the national championship conversation, that same season UK won 41-38.
The wheels just came off so quickly, and UK benefited with the kind of domination and humiliation that will change perceptions, nationally, of the two programs. Louisville's players essentially quit this season. The lack of discipline on Saturday was obvious. A lack of character? Well, I won't blame the players. That came from the top-down from Petrino himself.
Petrino is an unquestioned offensive genius with an impressive coaching resume based on wins and losses alone. If coaching were only about X's and O's, bringing talent onto the roster regardless of anything but talent and excitement, Petrino would be a giant in the sport. But he has rarely done more than build for a little while and then enjoy temporary fruits of a win at all costs mentality. Over time, not doing things the right way catches up to you. That's not to say he cheated. It's to say that most who follow closely would agree he cut corners. There were some bad hires towards the end, no question, but the Louisville of 2018, the Louisville that quit and fell apart, was pretty symbolic of what has happened at most of the places Petrino has coached.
It looks like Louisville has a more sane, respectable administration making decisions now. The basketball program made a good hire and if Louisville lands Jeff Brohm then regardless of whether you think that's a good hire or a home run, it's at the very least a good hire. They could do a lot worse. And they will probably get him.
My belief is Brohm will have a harder time building up Louisville than he has had building Purdue. While Brohm inherited a mess from Darrell Hazell at Purdue, he inherits a mess at Louisville in addition to a roster that may be in shambles. UofL writer and radio figure Mark Ennis reported that 20 UofL players had sought paperwork necessary to seek a transfer and that speaks to a widespread awful climate. Brohm will do fine with X's and O's and he appears to have his head on straight more than Petrino. He's done better at Purdue than almost anyone expected. But he is 6-6 this season and in spite of the blowout win over Ohio State they have been just as prone to talent deficit challenges as any team coached by anyone else.
There's no quick fix. Brohm would be a step in the right direction, but his impact on Stoops' success at UK would be marginal. I've said the worst case scenario is that he would pretty much make Jefferson County talent "off limits" because he has already recruited the state of Kentucky very well at Purdue. But Kentucky's in-state recruiting challengers in the rest of the state, for top talent, will remain poachers like Alabama, Ohio State, Notre Dame and Clemson.
There's also plenty of talent in other states, and UK's recruiting, by the rankings, has remained pretty much unaffected by Brohm's improved recruiting at Purdue. He did land Milton Wright (who was never going to UK), Rondale Moore (who was never leaning heavily to UK later in the process) and Marvin Grant (Brohm's biggest head to head recruiting win against UK). But there are plenty of good players.
The biggest challenge Brohm would pose to UK as UofL's new coach would be narrative. He would instantly become a large figure in the state. Not larger than life like John Calipari or Rick Pitino of old, and the track record doesn't back it up. But Stoops would have to battle the instant "bump" and flood of PR-style headlines and takes that would inevitably come. That can be frustrating, self-fulfilling and could lead to some of the more negative folks in UK's fan base constantly comparing the two year round.
9. Matt House worked wonders with Kentucky's defense.
Mark Stoops gets a lot of credit for Kentucky's defensive improvement but I was floored when Matt House wasn't even a semifinalist for the Broyles Award, which goes annually to the top assistant coach in college football.
One could make the case, easily, that Kentucky's defense has underachieved in recent years. But that doesn't change the fact that a unit that ranked in the 90's in 2017 jumped to right around the top 25 in total defense and top 10 in scoring defense this year. UK's defense was one of the stories of the entire college football season. And it is such an historical aberration as Kentucky fans know.
What led to the vast improvement?
Josh Allen finally came into his own and untapped a level of potential that absolutely no one realized he possessed. That was a lot of it. It changed game plans, and games. That, as I've said, was hugely related to the secondary's improvement. While UK's defensive backs were consistently torched in 2017 they developed into one of the nation's better units for most of the season. Their only "bad" games were against Tennessee and MTSU.
Derrick Baity was a quality corner for three years and he will leave Kentucky as one of the SEC's top defensive backs. He surrendered very little all season. Lonnie Johnson was more than serviceable and that was being tested all season with opponents throwing away from Baity. Mike Edwards was in a coverage role against solid receivers more than ever and he made the adjustment well, sacrificing his overall tackle total to become a more well-rounded player (and that will be good for his prospective future in the professional ranks). Darius West went from being a run-stopping specialist and coverage liability to a much more balanced, experienced player and leader himself. I felt like he was the safety equivalent of sophomore Jordan Jones back in 2016, constantly shot out of a cannon, playing sideline to sideline, but also making game-changing plays as at A&M.
Beyond that, the players who had to "not be weak spots" weren't weak spots. Boogie Watson had his moments and more than made up for whatever was lost when Denzil Ware left the program in the offseason. Kash Daniel had his own ups and downs, but it was important that he proved to be a quality player. There was no drop off, at least, from Courtney Love. Any coach will tell you that leadership is only highly relevant to results if the leadership is coming from a top contributor. Daniel became part of the heart and soul of Kentucky's defense because he proved he belonged in SEC-level games.
Jordan Jones' comeback season is one of the less discussed, more important parts of Kentucky's defensive rise. He didn't put up 2016 numbers, but he didn't have to. He limited mistakes, he improved in coverage, he played fast and he avoided the kind of post-whistle boneheaded decisions that were such a problem last year. Stoops' patience with Jones after last season doesn't look nearly as controversial and, as he has said, sometimes kicking someone off the team is the easy way out. Not the hard decision. There were plenty of fans who wanted Jones off the team after the UofL embarrassment last year. He has not embarrassed the program in the least this year.
So almost all of those players will be gone next season. Does that mean Kentucky's defense is going to struggle?
Probably, in some respects. The pass defense will not be nearly as good. Of that I'm pretty much certain. Davonte Robinson had a great year (not a great game against UofL, though). Tyrell Ajian was very promising in limited action. Jordan Griffin's injury impacted his effectiveness but he will be a leader and a quality, all-around player next year at safety, nickel or maybe even corner. I believe Yusuf Corker will provide quality depth at safety with more seasoning and Michael Nesbitt, from all accounts, has a promising future. But I have no clue how the corner spots shake out and that's a major concern, especially with Allen's elite pass rushing gone. Fortunately for UK, Drew Lock and Kyle Shurmur are gone and the schedule is manageable, but fans should be prepared for some rough moments.
But there is plenty of room for hope on the front seven, where Kentucky will return the likes of Quinton Bohanna, Josh Paschal, Phil Hoskins, Calvin Taylor, Kordell Looney, Marquan McCall, TJ Carter, Watson, Daniel, Chris Oats, DeAndre Square and others who might not even know much about yet. If Bohanna, Paschal, McCall, Oats and Square improve at the level they should, Kentucky might have as much young and budding front seven star power as most teams in the country. Taylor pressured opposing quarterbacks as much as any defensive lineman in a long time at Kentucky.
They will need to make big strides in bowl prep and in the offseason, because the back end of the defense has major questions and some big shoes are being left behind.
10. One question is answered.
"What will it take for Kentucky to get national respect?"
That's been a question that has long haunted people around this program.
Rich Brooks did great things at Kentucky, going to five straight bowl games and winning some big games, too. But even then, the perception of UK nationally was that it was an outside-the-Top 25 program feasting on mediocre teams and pulling the occasional upset.
Mark Stoops' first five years at Kentucky had some bright moments. Wins against South Carolina. Close calls against Florida, Auburn and others. Beating Lamar Jackson.
Still, Kentucky was ranked as low as the 70's or 80's in some preseason polls and even when UK started getting some traction in September the Cats were overlooked. And why not? They've collapsed in the past and they haven't seized the moment against the teams that matter.
Kentucky lost back-to-back November games against Georgia and Tennessee by a combined 34 points, yet the Wildcats are still in the Top 15. That's because Kentucky did something simple. They won big games in the SEC, and without smoke or mirrors. They beat Florida on the road. They pounded Mississippi State. They led South Carolina 24-3. They beat a Missouri team on the road, one which we now know is a really good squad.
You can't really knock a team if they have the resume. Kentucky's resume has earned it the respect that is has. So the question is answered. No, America doesn't hate Kentucky football. There's no disproportionate, undeserved "disrespect". They had to win games, like everyone else, and the respect came.
With the Tennessee streak long gone and the Florida streak gone, the narrative will change in a real way locally and nationally. Those black clouds have disappeared. In their place, winning streaks against East opponents, three straight bowls, nine wins.
If Kentucky regresses next season then they'll have to earn that respect back, but if you find yourself in an argument with someone who says Kentucky's an SEC bottom feeder, simply point them to the results on the schedule. Five conference wins, two top 25 wins, only one ugly loss.
Interestingly enough, through those two November losses, Kentucky kept a stronger national profile and more national respect than they had locally, as fans and media were quick to assume that the Wildcats were falling apart again, that the earlier success was more illusion than proof of progress. How this season played out is proof of what's possible, but also indisputable evidence that if Kentucky actually takes care of business there is nothing standing in its way.
11. Has Kentucky capitalized on its season with recruiting success?
Off the field, there's been plenty of Cats Illustrated House of Blue talk about whether Kentucky has recruited at the level they should in the best season since 1977.
I think the Wandale Robinson commitment (they still have to keep him) did a lot to help with this. The in-state recruiting has still been a thorn in Stoops' side recently (Herron, Lacey, Hudson, Bowles, Wright, Casey this year) and Robinson went against the trend. UK also needs explosive playmakers and Robinson is electric, so it's easy to imagine him on the field with Rose, Lynn Bowden and others changing things.
The rest of the class does not have, admittedly, the star power of some previous UK classes. I don't see the obvious talents like McCall, Paschal, Edwards, Young, etc. Had UK fared better in-state this year the class would have a much different look. Even landing two more of the four-star players in the state would have made a big difference.
We have to remember that UK's coaches are not selling a dream anymore. They're selling a track record. They can sell wins and that does help. But they're also having to answer questions and negative talk about a lack of draft success and, frankly, on offense, a system that doesn't appeal to some skill players and quarterbacks.
I have said that I believe this class, with guys like Jalen Geiger, Jake Pope, Travis Tisdale, DeMarcus Harris and others (Jay Ward, until he decommitted) has some classic three-star types who look and play like four-stars. Rivals has been good to UK's football recruiting rankings in recent years (higher than any other network for six years running I believe) but this year the "on the fence" calls have landed on the three-star side more often than not. And there have been some high profile misses.
Had Kentucky landed a more high profile quarterback that would have changed perceptions as well. I do believe Nik Scalzo has better real college potential than some believe. No knock on Walker Wood, but I would not make that comparison. I think Scalzo could be an SEC starter down the road. If Kentucky gets Beau Allen on board in 2020, and early like they hope and are telling him, he would help carry the banner and gets things jump started.
I expect Kentucky to land JJ Weaver and if/when that happens all of a sudden the class has four-star safety Moses Douglass, Robinson, four-star Weaver and lots of three-star quality depth. They still have to keep Cavon Butler, Robinson and Taures Payne, and the fact that those guys are on "flip/visit watch" is a reminder that just winning games won't protect Kentucky completely from the realities of recruiting against traditional powers and "name" programs.
So far I would give this Kentucky class a "C+" because they get docked for lots of in-state high profile misses (though I'm not sure what they could have done differently having gone 9-3) and lack lots of star power, but the class is right in line with the other classes they have recruited by the rankings and they're right around the Top 25 nationally for now.
The remaining 2019 goals: 1) Keep all/as many as possible of Robinson, Butler and Payne (Robinson most important obviously), 2) Finish with Weaver and three or four other really solid "best available" prospects including perhaps a plug and play JUCO DB to go along with Brandin Echols.
The 2020 class is when we will see the impact of Kentucky's 9-win season because players everywhere have heard a lot about the Cats. However, the real jolt will come when Kentucky has what should be a strong draft day next year. That will be mute the biggest knock against the Cats in the recruiting world, especially when Josh Allen's name is called early.
I would suspect the 2019 class finishes top 35-40 but the 2020 class could rank as Stoops' second-highest rated especially if they get Allen on board early as a magnet. But I understand the disappointment with some of the misses.
12. What about Eddie Gran's performance as offensive coordinator?

Ah, yes. The best for last. The Terry Wilson debate has fizzled out, but the Eddie Gran feud rages on. Offensive coordinators and quarterbacks are either beloved or despised, and if they're popular the fame is always tenuous.
I have been an Eddie Gran defender for the past three seasons. You probably know that.
Having said that, I will acknowledge one very big point that a lot of critics have made. When the offense struggles, mightily as it did for much of 2018, then hard questions have to be asked of the "head coach of the offense". It's only fair. He owns success and he owns failure, even more so because, in spite of his agreed-upon conservative game plan with Stoops, he was hired with the express promise, from Stoops, that there wouldn't be micromanaging and the offense would be his baby.
There's no reason to criticize UK's 2016 offense. It was explosive and record-shattering on the ground. Last year, with a senior but banged up Stephen Johnson, there wasn't too much criticism either, beyond complaints about misusing the tight end, a lack of explosive plays and taking a step back, overall, from the previous year.
This year the criticism on social media, from fans at Cats Illustrated and on the radio took over a large part of the discussion of the season. From the second half of Kentucky's win against South Carolina through the loss to Tennessee, the offense was something between awful and plodding, certainly one-dimensional and unsuccessful overall.
Based on that alone, even if I'd argue Gran wasn't the biggest problem, those games won't be highlighted on his official resume or UK Athletics website page.
My case for shielding Gran for the most severe criticism is simple. Offense has been a Kentucky problem for a lot longer than Gran has been around. The offense is his, yes, and he owns the results. But that context is important. He didn't take a good offense and make it what it is. He took an offense, three years ago, that had absolutely no identity and gave it an identity. His play-calling was oriented towards and dictated by Mark Stoops' decision (and probably his preference) to win games in a controlled, shortened, boring and somewhat predictable fashion. There were some outburst moments in previous years (see: Louisville, 2016, Ole Miss last year) but on the whole the approach has been conservative and fairly vanilla.
Gran has not had an enviable roster situation at Kentucky. Stephen Johnson was a consummate overachiever but he was not an elite passer and he was banged up at times. Kentucky has not had elite wide receiver play or even good play on the outside in years. Lynn Bowden's improvement this year is noteworthy but the options on the outside seem to be obviously lacking as some drops have underscored. And I don't see a lot of guys running wide open.
The offensive line has been probably better for most of the year than a lot of folks realize, but UK had to shuffle more than it would have liked and its experienced five-star left tackle was lost before the season. But the line wasn't the problem.
UK was one dimensional because it had an inexperienced quarterback with clear limitations and a lack of playmakers on the outside. In the SEC, you can't get away with that for eight games. Teams are too good. They'll take away what you do well if you can't throw something else at them. UK was constantly in a balancing act between doubling down on what it did well (Vanderbilt: 280 rush yards, nine pass attempts in bad weather), trying to keep defenses honest with quick, short perimeter passes (Missouri) that didn't stretch field but was the only option, and occasionally letting Wilson sling it. But when Wilson looked deep he was either inaccurate or didn't get help. If there is no threat of a deep ball, it goes without saying that it limits everything else. The field is shorter and smaller. Space becomes limited. Gaps are plugged. Numbers work against you. And your all-everything running back starts to get banged up and worn down.
I could point to a different problem for the offense in every single game in the middle of the season. Against South Carolina, offensive line penalties. Against Missouri, not finishing drives. Against Texas A&M, a great game plan that threw something new and unfamiliar at a JUCO transfer quarterback. Against Georgia, an overwhelming performance by a great opponent. Against Tennessee, a team that just lacked fight and fire. Against Vanderbilt, weather and a calculation that the most boring of boring game plans and leaning on great defense would be enough.
But granted, it's Gran's job to work through weaknesses. It has not been his greatest season.

I just don't know what he could have done all that differently. My big issue with Gran or Stoops' offensive play calling this year has been counterintuitive, out-of-character 4th down play calls that were too vanilla and at the same time too aggressive. Running out of the Wildcat on fourth and a long two yards. Coming out of the timeout running a very similar play that had been teased before the break. Knowing you aren't getting push but deviating from your conservative approach and getting aggressive on your side of the field when it was unnecessary.
Before this season Gran was asked if this year's playbook would be bigger than those of the last two years. He said no and implied it would be significantly scaled back, even as UK had incorporated some NFL concepts and some new ideas.
Early in the season Wilson battled a turnover tendency and general inexperience but his raw talent took over and allowed Kentucky's offense to do, at least "enough" to win games (more than that against UF). One RPO in particular, either a halfback pitch, a fake pitch and Wilson run, or a throw over the seam to David Bouvier, was implemented with great success on a number of occasions. Fans wondered where those wrinkles went as the offense came grinding to a halt later in the year.
C.J. Conrad's success late in the season was a great story for a hard-working, humble senior, but it understandably prompted frustration from fans who wondered where it has been for years.
Kentucky was so one-dimensional at times this year that the games became difficult to watch. The defense bailed the team out against Missouri and was the main reason UK won nine games.
As I understand it, and I've tried to be open-minded, the biggest criticisms of Gran in various forms have been: He's too conservative, he doesn't involve the tight end, he's tried to make Wilson something he isn't, he pounds Snell into the same spots all the time or he doesn't go to Snell enough, and so on.
In any given situation I might understand this or that criticism. But I can't escape the feeling that the three units of a football team work together as part of a grand strategy and formula, and Gran was doing what Stoops wanted. That, coupled with some bad factors limiting the passing game, made the going tough.
It will be interesting to see if Gran returns next year. Mark Stoops isn't going to force him out because he clearly sees him as being an integral part of the program's turnaround, and he has been. UK has an identity and you'd have a hard time convincing me that Kentucky would have won 10 or 11 games with lots of other OC's. But he might want to be a head coach at some point. So I'll be watching that closely.